A description on how cutting and sewing, our experts have produced some of their most interesting creations
Details

Parent Category: Blog and news
Published on Tuesday, 17 May 2016 10:24
Want a clock in hide?
Would you like to make a unique gift?
Today we will help you make your handcrafted clock.
Customize the way of looking at the time, follow the processing steps and say hello to your clock in hide.
Necessary material:
-vegetable hide
-tube of glue
-electric ventilated oven
-container with hot water
-pen
-pyrographer
-mechanism with clock hand
-painting plastic type
-small brush
-aereograph
PHASE 1) THICKNESS
Our first step, to make our clock it provides bonding the two layers of the vegetable hide, the thickness of about 1,5 mm. This way we give thickness and flower face on both sides.
PHASE 2) ELIMINATION OF TANNING OIL
We take our prototype clock and soak it into a container with warm water, changing the water 2-3 times in an hour "rub" the hide, so the tanning oil will be eliminated.
PHASE 3) SHAPPING AND DRYING
Giving our clock a more definite form, we will put it to dry in a ventilated oven at 180° keeping the door open. As the hide dries we will continue to shape the outline.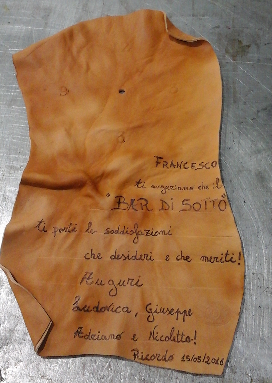 PHASE 4) BEGINNING ENGRAVINGS
 Our clock is beginning to take form.
 At this point we can put the numbers and if we want also a phrase or a design.
 At this point we have so many different techniques (engraving, carving,...).
 Today we will show you this: we will print the numbers on the clock, and we'll write with a pen the phrase     that will be engraved by fire with pyrography.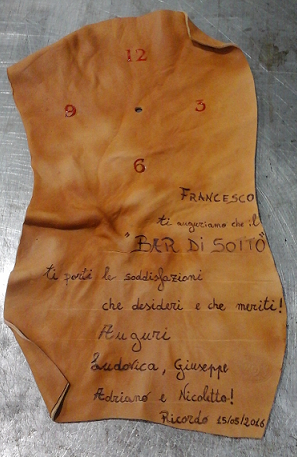 PHASE 5) USING THE PYROGRAPHY
                                                 It's the time to sign with fire our creation.
                           Using the pyrography tracing the phrase already inserted.
          This instrument, in fact, it permits  to trace and reproduce with great                                                           precision using the fire.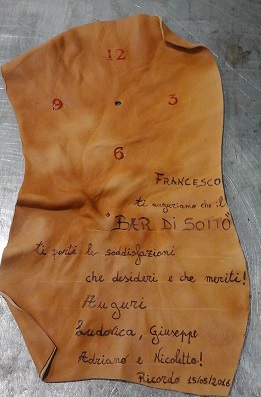 PHASE 6) COLOUR
 With a small brush, dipped in plastic type paint, it will give colour to the clock numbers.
 So it will be similar to the clock hands that we have chosen, red and black.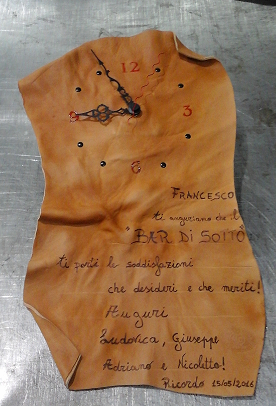 PHASE 7) CLOCK HANDS AND NUMBERS
Now we take the mechanism and proceed carefully to the assembly of all parts.
Having chosen black and red hands, we will complete all the numbers with clack rivets, to scan the time with the same colours.
PHASE 8) VINTAGE TOUCH
Thanks to the use of the aerograph, we can give life to different types of colours giving shadow to a parchment effect, on our clock.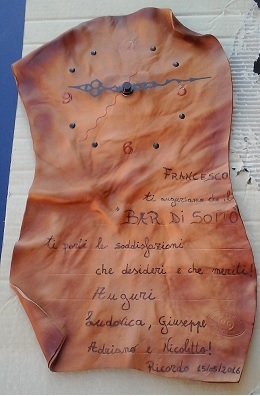 And here is the completed clock in hide, completely created with your hands!